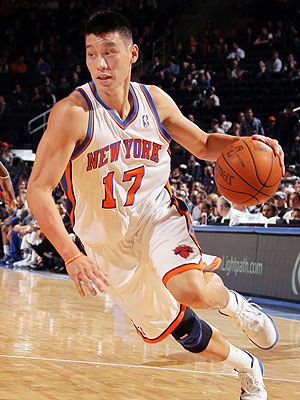 Jeremy Lin...about to do something great,
or commit a turnover.
It's been one of the strangest NBA seasons in recent memory. First the lockout, then a truncated schedule that has teams playing about 18 games a week (the Sunday matinees have been delightful!). The Chris Paul non-trade to the Lakers, then surreal trade to the Clippers (a nice early Christmas present for all) kicked things up a notch, especially out here in LA.
From a viewer standpoint, it's been great, there's an absurd amount of games to watch. I don't even have the NBA package anymore (due to my NJ Nets sucking and whatnot) and I don't miss it. TNT, ESPN and NBA TV are showing more games than ever. Plus, there's WGN showing the occasional Bulls game, God bless that super station. Sure the level of play has suffered a bit - scoring is way down, and even worse, the refs seem more inept than ever. But, for most die-hard fans, quantity can often outweigh quality.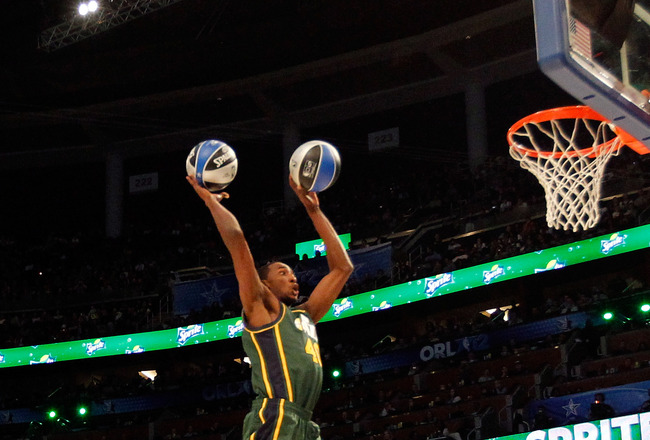 Jeremy Evans: Coming soon to the NBDL.
Really, the worst week of the season is the All Star Week. The unbearable self promotion, the horrible attempts to create something significant out of something silly. Seeing Kenny Smith in uniform. It's like watching the ESPYs for three days straight. This year's dunk contest was one of the worst ever, and won by a player that will most likely not even be in the NBA next year. Sorry, Jeremy Evans, but one day you'll wish you had as good a career as Dee Brown, Harold Minor and Ced Ceballos. It was telling that as Jeremy Evans was hoisting his trophy, TNT "analyst" Shaq O'Neill was pleading NBA stars like Blake Griffin to come back to the dunk contest.
With this little lamentable lull in the schedule, let's take a look at 10 random things you may have missed from the first half of the year, plus some predictions. Why 10? I don't know, because it's Mookie Blaylock's number, let's go with that for now.
"Don't you forget about me..I'll
be alone, dancing you know it, baby"
1) LeBron James... still ridiculously good. Shooting his highest field goal percentages ever, and averaging 27 points, 8 rebounds and 8 assists and 2 steals is unbelievable. The Heat are destroying teams and have to be the favorite to win it all. If they don't, LeBron may demand a trade to Oklahoma City. His season at least statistically could go down as one of the best in history and hardly anyone is noticing, because ...
2) Jeremy Lin... I love watching Lin, but it has been a bit much, hasn't it? The problem with stories like this is that they can often suffocate the very player they are celebrating. Let's just let him play and not overanalyze his every game, his every turnover, which as we know, are incredibly frequent. Seriously, it sometimes seems like he forgets how to dribble, then he goes around 4 guys for a layup. He's hard to figure. And did Sports Illustrated really need to give back to back covers? When the Knicks get swept by the Heat in round 1, remember that it's not Jeremy's fault.
3) My 10 favorite players in the league right now to watch: Kevin Durant, Monta Ellis, Steph Curry, Russell Westbrook, Blake Griffin, Steve Nash, Kyrie Irving, Lou Williams, Kevin Love, Chris Paul. All of these guys bring it every night and are worth the price of admission...maybe not for the first row, but Loge section at least.
4) Kobe Bryant...still selfish after all these years.
Kobe complaining about a call? Never.
The NBA's quickest trigger got off to a nice start and is leading the league in scoring. He's also shooting more than anyone, and in recent weeks he's been under 40%. Kobe has never been a very efficient scorer, and as he gets older he's just not getting as many bail out calls. He's also not hitting the 3 anymore. Plus, he's got that
octagenarian finger
, which can't help. I hear when he watches TV that finger tries to change the channel to The Golden Girls. Anyway, the window could be closing on him getting anymore titles, and as someone who really dislikes him, it's schadenfreud-tastic to watch.
5) Ricky Rubio...overrated. Sorry, I just can't get that excited about a guy that cannot hit the broad side of a barn with his jump shot. Also, call me old-fashioned, but every move he makes is a travel or a carry. He's Manu Ginobili without that bald spot.
6) Kris Humphries...why so much hate? The poor guy gets booed mercilessly in every city all because he had the terrible taste to marry a Kardashian. Hasn't he suffered enough? He plays hard, and is actually a solid player. The only reason to dislike him is that he spells Chris with a "K" which is admittedly, annoying. The really shocking thing is how many Americans have apparently watched that show.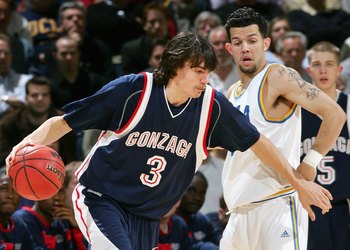 Jimmer Fredette is following the Adam Morrison
NBA career path.
7) Your NBA mid-season Anti-All-Stars (i.e. worst players in the league): Jimmer Fredette, DeShawn Stevenson, Ryan Gomes, Shelden Williams, Jamaal Magloire. All of these guys rank among the lowest in PER at their positions, which measures players' efficiency/productivity per minute. And, not surprisingly, two of these players are Nets. And note to Jimmer: you've let down America, buddy. We needed a hero named Jimmer, and you've failed. But there's still time, you don't have to be the next Adam Morrison.
8) Player that I wish would get more playing time because he has an awesome name:
Bismack Biyombo
9) Speaking of Biyombo, his Charlotte Bobcats are 4-28. Two things...it's time to get Biyombo some more PT. Also, I think the ship has sailed on Charlotte being an NBA city, sorry MJ.
10) My playoff predictions:
First round East: Heat over Knicks, Bulls over Atlanta, Philly over Boston, Pacers over Orlando
First round West: Thunder over Grizzlies, Clips over Golden State, Mavs over Spurs, Rockets over Lakers
Second Round East: Heat over Philly, Bulls over Pacers
Second Round West: Clips over Rockets, Thunder over Mavs
Western Conference Finals: Oklahoma City over LA Clips in 6 games
Eastern Conference: Miami Heat over Chicago Bulls in 7
NBA Finals: Heat over Thunder in 6