Last year we introduced the official
Super Bowl drinking game
, and now it's time to unveil the Conference Championships Drinking Game. Totally different rules and twice the drinking! Fun for the whole family! (Stomach pump sold seperately.)
Update
: Actually, after just reviewing the rules below and consulting my attorney, I don't recommend anyone play this game ever. Even Winston Churchill would pass out playing this game, and he downed a decanter of bourbon with a Guinness chaser before eating a vodka-oatmeal breakfast every day. And that's true, I saw it on the BBC channel. I do my fact-checking here at the Deep Dish, we're not having a Manti Te'o situation, not on my watch.
Without further adieu, as Richard Dawson says in
The Running Man
, "Let's Play the Feud!"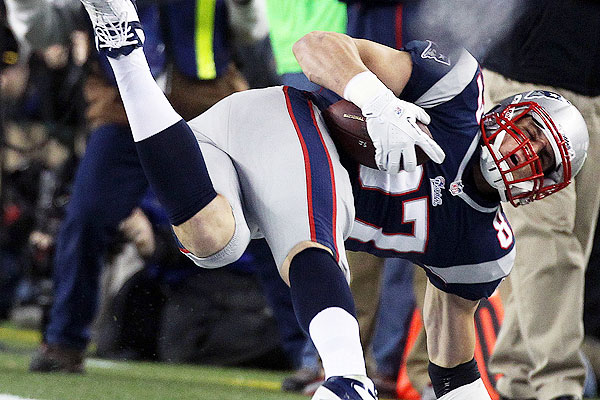 "Not the elbow, bro, no bro, no, bro-uch!"
Patriots -9 vs. Ravens
Drink 1 drink when:
Ray Lewis dances
Rob Gronkowski's elbow is mentioned
Tom Brady is mentioned in the same sentence with the word "precision" and "masterful" or "questionable wardrobe" and "lady-like"
Ray Lewis prays to the Lord
Bill Bellichick frowns or appears to mutters something under his breath
Ray Lewis misses a tackle
Joe Flacco overthrows a receiver and then directs the receiver to run faster
An announcer praises Ray Lewis' leadership/and or character
When the Patriots many "weapons" are discussed
When the possibility of a "Harbaugh Bowl" is brought up
A Masters preview is showed and the words "A tradition unlike any other" are mentioned
Tom Brady complains about being touched by a defender
Wes Welker dives to the ground to avoid getting hit after a catch
Down your drink when:
Ray Rice does something silly like convert a 4th and 19. You'll know when to do it.
Either QB throws a pick and the announcers promptly blame the receiver
A pass interference call is reversed because the pass was uncatchable (this never happens, btw)
Bill Bellichick smiles
Brady dons one of those ski caps with the puffy ball on top
A Ravens receiver drops the game-winning catch
You find something at all redeeming or likable about the Patriots
Prediction: Patriots 34 Ravens 21
Atlanta +4 vs. San Francisco
Take 1 drink when:
Someone mentions doing the "dirty bird" or Jamaal Anderson
Any old clip of MC Hammer or Deion Sanders is shown
Whenever the camera shows Jim Harbaugh screaming (warning: this could be dangerous)
Matt Ryan's impressive home record or unimpressive playoff record is mentioned
Colin Kaepernick runs for a 70+ yard touchdown while momentarily taking flight
Fox shows a promo for that new Kevin Bacon show The Following
Troy Aikman says the phrase "You're right, Joe..."
Eugene Robinson's Super Bowl XXXIII weekend is mentioned (the XXX is fitting)
Anyone mentions Brett Favre was once drafted by the Falcons
Down your drink when:
Harbaugh throws a challenge flag at a referee's head
Whenever Joe Buck says the name "Babineaux!"
If a referee utters the phrase "unabated to the quarterback"
Everytime the camera pans to Alex Smith looking sad
Anyone says "Tebow!"
Prediction: Falcons 23 49ers 20
Enjoy the games!