Welcome to Thursday Night Football. Come for the sloppy play and stay for the lopsided score! Tonight, the 1-5 Jets, with their worst team since about 1995, head into New England to face a Patriots team on its last legs.
Embrace the Rivarly!?!
Most of the Thursday night games have been dreadful this year and the trend may continue tonight. Why not give these guys one more day and move these to Friday? Like we're not going to watch? My prediction: Pats 30 Jets 20 (which is a push btw).
Here are some things I'm looking forward to tonight
1)
Geno's first poor throw that elicits an audible sigh of disgust from Jim Nantz and an "aw shucks" from Phil Simms.
2)
How many times they refer to Rex Ryan being on the "hot seat" while not mentioning the Jets GMs who put this monstrosity together.
3)
A Nick Folk field goal attempt (he usually makes them!)
4) Belichick looking grumpy.
A picture of betrayal.
And some things I'm not looking forward to:
1)
Darrelle Revis in a Pats uniform. So many levels of wrong.
2)
Gronkowski doing his bro' stuff against any Jets' defender
3)
Any receiver against the Jets' secondary.
4)
The inevitable shot of Buttfumble and of Mo Lewis crushing Drew Bledsoe, which is great until they cut to a shot of Tom Brady.
1st Quarter:
15:00: I like the body language from the Jets tonight. They have a look that says, "hey, we're not losing 31-0 tonight, because we know a lot of their plays!"
13:40: 7-0 Patriots. What was I just saying? Tom Brady hits Shane Vereen for a long score. Full disclosure, Brady is on my fantasy team and I'm playing him tonight. I have no regrets, but that was awkward for me.
6:33: After a rather exhausting 13 play drive, the Jets kick a field goal. The Jets offense is a field goal kicker's dream. If Folk ever misses a kick it will really force them to question themselves and everything they believe in.
1:16: Chris Johnson runs for a 1 yard gain. It might be his longest run of the game, so wanted to give him his props.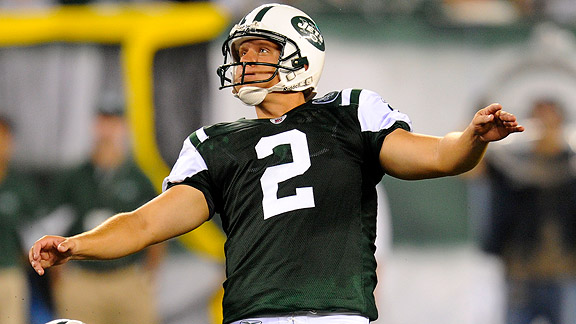 "I am Legend."
0:24: Another Nick Folk field goal after an 11 play drive. You can't contain Nick Folk, people! Every 2014 Jets drive resembles the
Battle of Verdun
. Lots of struggling in the trenches, pain, suffering, regret, delirium... and everyone wonders why it couldn't have ended sooner.
2nd Quarter
5:37: Shane Vereen scoots past the artist formerly known as David Harris. Harris gets chop blocked by a teammate to add a little injury to the insult.
4:22: TD pass to Vereen. I can't lie, I'm glad it wasn't a rushing TD. The Patriots take the lead and prove once and for all that 2 touchdowns are better than 3 FGs. I remain skeptical of this "new math." Patriots 14 Jets 9.
4:14: Someone named Walter Powell returns the kick 60 yards. I don't know who you are buddy, but you're hired! I don't even care that you didn't touch the
Penske file
!
4:07: Geno spikes a short range pass into Eric Decker's head while he's not looking. There's the Jets offense I know.
1:30: Chris Ivory runs for 10 up the middle and then another 8. He's so much better than Chris Johnson it's ridiculous. 2nd and goal....get ready, field goal unit!
1:04: You're never going to guess what happened. The Nick Folk fan club (called Folk's Folks) grows even bigger to 9 people. Pats 14 Jets 12. Just enough time for Brady to get another 7, nice clock management, fellas!
0:00: They only get 3 points. Victory! Pats 17 Jets 12 at the half.
Halftime: Deion Sanders says Geno Smith is being too cautious with the football. I'll give an Amen to that statement.
Oh no, a Philips Rivers interview. He's wearing a Charger hat and sweatshirt just in case
I urge you to Google "Philip Rivers complaining."
Enjoy the ride.
you didn't recognize him by his annoying face. Rivers proceeds to complain about having a hard time hearing James Brown and Bill Cower. The guy just loves to complain!
3rd Quarter:
12:00: The Jets come out with 7 straight running plays like it's 1931. It's followed by a pass to Decker for a 1st Down. The groundwork for the next field goal has been laid.
8:58: Chris Ivory over the top for something called a "TD"! His dreadlocks flew quite majestically on that one. Wait, you're allowed to score 6 points at once and then get another 1 via an extra point? Such wizardry!
5:40: After a BS holding call, Julian Edelman runs for a 1st down and does his best
Nat Moore helicopter impression
. This is followed by a slow-motion shot of Rex complaining and jiggling his body parts. That was gratuitous, but not as bad as it would have looked a few years ago.
3:45: Gostkowski sneaks one through the uprights. Pats 20 Jets 19.

1:37: Ryan Quigley punts for the first time. I'm not sure if he's from "down under", but I'm going to assume so because it's better that way. When you punt for the first time late in the 3rd quarter and you're still losing, you're doing football wrong.
1:00: Antonio "Pop Tart" Allen broke up a pass on 3rd down. I had to rewind 4 times to make sure it happened.
4th Quarter
14:00: Geno does that thing where he runs backwards really fast for 15 yards and gets tackled. Ho-hum.
"You look great, man." "No, you look great. So puffy"
11:45: The Pats D coordinator looks a cereal killer. Like, he would just destroy a box of Count Chocula.
11:40: A Mike Vick sighting. He enters the game after Geno gets bent sideways. Vick runs for 5 yards, dives forward all willy nilly and almost gets hurt. Vintage Vick.
10:58: Damn you, Revis!! He breaks up a pass on 3rd down. It's the kind of play that wins games. It's followed by a terrible Quigley punt. You're on the next slow boat to Perth, Quigs!
7:49: Brady rips the Jets' heart out with a TD pass on 3rd on 19 as Antonio Allen gets toasted again. I'd like to say that wasn't completely predictable. I really would. Pats 27- Jets 19.
7:37: On a gadget play, Geno pitches to Mike Vick and hilarity ensues. Vick gets absolutely crushed. The Pats commit a penalty, but that was embarrassing. Geno then realizes he has as WR not named Decker and finds Kerley for 16. Geno competes and has heart, you gotta give him that.
5:40: Geno scrambles for a 1st down. I guarantee most Jets' fans are already preparing for this scenario: Jets will score a TD and then miss the tying 2-pt conversion. It's in our DNA. I swear I'm saying this live in case it comes true later.
2:31: TD to Cumberland! He celebrates with a little bird dance that my 4-year-old noticed and just imitated precisely. That was fun. But, I'm preparing for the inevitable 2 pt fail. The Jets' last 2 pt conversion was 2010. That says it all. Do they even have a play for this? It might involve a fade to Nick Folk. They'd never expect it!
Here's the Jets' rookie tight end!
2:31: Ugh. A low percentage lob to a tight end with hands like Shakes the Clown surprisingly doesn't work. Four years and counting since that last 2 pt. conversion. Time for a drink!
2:26: A very good onside kick from Folk fails as Jets players look around disinterested.
1:06: Jets get it back around their 10 yard line.
0:30: Two middle screens gain some yards and waste precious time. Really would be nice to have those 2 timeouts they burned.
0:08: Jets matriculate to the 40 yard line for a 58-yard fg attempt. They clearly think Nick Folk can walk on water at this point.
0:00: Nick Folk is human. Kick blocked. Pats 27 Jets 25.
It was a valiant effort by the Jets tonight. This is a team that's just good enough to lose in painful fashion every other week. I've seen worse.
Week 7 picks:
Colts -3.5 over the Bengals
Redskins -5.5 over Titans
Bears -3.5 over Dolphins
Panthers +7 over Packers
Falcons +7 over Ravens
Jags +6 over Browns
Seahawks -7.5 over Rams
Vikings +6 over Bills
Saints +3 over Lions
Cowboys -6.5 over Giants
Chargers -4 over Chiefs
Cards +4 over Raiders
Niners +7 over Broncos
Steelers -3.5 over Texans
We end with an underrated song by an underrated dude named Hudson Bell. Things start to get good at the 1 minute mark. Enjoy the games!