These replacement refs mean business.
Watching the Giants-Cowboys game the other night I realized something odd. The Cowboys had the ball in Giants territory midway thru the 4th quarter with the lead, but then committed about 18 penalties in a row. Even though the clock stops when a flag is thrown, it doesn't stop for that long (in the last few minutes it's stops, but not throughout the game, or in the first 10 minutes of the 4th). The clock stops for only about 15 seconds and then, tick, tick, tick.
So, since the Cowboys had the lead, they were actually improving their chances of winning by committing penalty after penalty. Sure, they were going backwards, but the clock was ticking, and the down remains the same. To this I say....THAT's NOT RIGHT! It's clearly a glitch in the matrix. Somebody get on this immediately.
On to the games!
Tebow QB tip #10: it's always good to cross your feet like a pretzel
before throwing the ball.
Jets -3 vs. Bills
Well, we finally get to see that ultra-secret Tim Tebow Wildcat package....yippee! What a glorious day for us all. Blessed are we, for wildcatting shall be done! Wait here, while I get my saucer of milk...okay, go! There should be a long drum roll the first time Tebow enters this week's game. And then
this sound
after the ensuing 5-yard loss. When you're offensive hopes rest on Tony Sporano, it's not a good thing. Sporano looks like the guy at the OTB who just lost his paycheck (not that I've ever been to an OTB, haha!). But one of the few things the Jets have been able to count on in recent years is that they can always beat Buffalo by running the ball down their throats. Buffalo's defense is usually tiny and emaciated, like they're auditioning for spots on America's Next Top Model. But, now Buffalo's brought in some high priced players like Mario Williams, who is sure to spend more time on top of Sanchez than an 18-old NYU girl. If the Jets lose this game, load up the bus and call it a season. I say they squeak by, because Revis, Revis, Revis.
Jets 16 Buffalo 14

Saints -8 vs. Washington
RGIII is going to be good, but this a rookie QB making his debut in a hostile environment. Not a good matchup. Who is the Redskins running back. Does anyone know? Is it Roy Helu? Rickey Ervins? Earnest Byner? Freaking Shanahan. He knows that we know he can never choose a running back and he loves it. He's trolling the fantasy community and it delights him more than his tanning machine. One thing is for sure with the Skins - Santana Moss will be playing for this team in 2042 and look exactly the same. He might be a vampire. Saints 27 Skins 17
Green Bay -5 vs. San Francisco
Game of the week here, which means Joe Buck and Aikman, so remember to hit mute. Several questions will be answered. Who is more insufferable - Packers fans or Niner fans? Will Kyle Williams be allowed near a punted ball? Is Alex Smith ever going to be better than average? Is Jordy Nelson the greatest white wide receiver since Steve Largent? Is that last question racist? The answer key: It's a tie, no way in hell, Ha!, yes, very possibly. Green Bay 27 San Fran 24
Houston -13 vs. Miami
The Dolphins gambled on their
4th round pick this year.
Houston finally won a playoff game last year, now we can all breath a sigh of sweet relief. Those crazy Dolphins are going with another rookie QB that is clearly not ready. Ryan Tannehill sounds like a character on "Gossip Girl." And no, I've not watched that show, how dare you. I'm more of a "Revenge" guy.
Texans 34 Dolphins 16
Indy +10 at Chicago
The Andrew Luck era begins. We are all witnesses. This week, witness him cover his first of many underdog spreads.
Bears 20 Colts 12
Jacksonville +4 at Minnesota
It's only Week 1, but I'm already bored by this game. Believe it or not, this is my lock of the week, mainly because it's Blaine Gabbert on the road and they're still unfreezing Jones-Drew.
Minnesota 26 Jacksonville 10
Atlanta -2.5 at K.C.
Falcons seem like an easy choice, but the Chiefs are a classic H.U.F.F. (home underdog, foreign field) bet this week, so beware. Also, it's a homecoming for Tony Gonzalez, so get out your Kleenex, Dick Vermeil. Here's a question: Who will drop more passes this year, Dwayne Bowe or Stevie Johnson? It's really a Sophie's Choice.
Chiefs 23 Falcons 20
Seattle -2.5 at Arizona
This is a funny line, because it reveals that Russel-mania is out of control. Yes, Russell Wilson, a Wisconsin QB making his first start is favored on the road. You know who the last good QB to come out of Wisconsin was? Nobody Jones, that's who. Sure it's only Arizona, and Red Skelton is their QB, but they are feisty at home. I don't like it, and they shouldn't be selling it.
Cardinals 27 Seahawks 20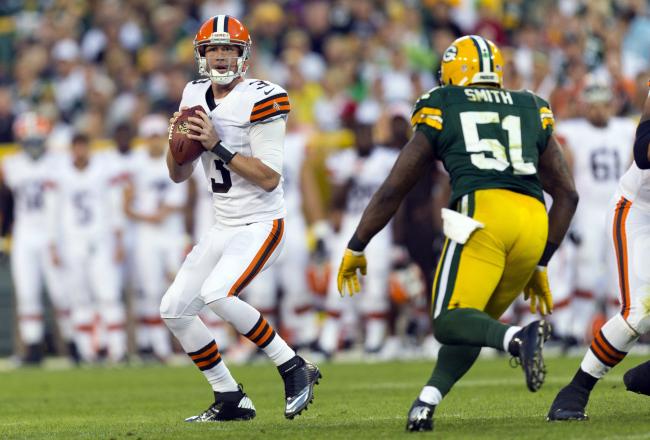 Little known fact: Brandon Weeden played high school football
with Larry King.
Philly -8.5 at Cleveland
Cleveland finally has a great running back and a highly touted college QB. Look out! Trent Richardson should be awesome...wait, what's that you say? He's already had 2 knee surgeries? And their "rookie" QB is 28 years old? Is he Mormon or something? Ok, I'm getting off the Browns bandwagon, you don't even have to stop it, I'll just jump and roll.
Eagles 35 Browns 10
St. Louis +7.5 at Detroit
Not much to say on this one, Lions should win easy. So here's a random thought: How come the word "war" doesn't really rhyme with "bar" or "car" or "star"? I bet this pisses off the poet community to no end. Lions 31 Rams 17
Carolina -2.5 at Tampa Bay
The Buccaneers lost their last 10 games last year by an average of 94 points. It's true. I'm not taking them till they prove they can lose with some dignity. Panthers 28 Bucs 9
Pittsburgh +2 at Denver
Ahh, the return of Peyton. In all seriousness, I'm happy he's back. His enormous five-head has been missed. I do wonder how he will perform not playing in a dome every other week. The Steelers should be motivated, thanks to last year's embarrassing playoff defeat, but I still don't see them getting it done. No one is happier this season than the Broncos' wide receivers.
Broncos 24 Steelers 20
Oakland +1 vs. San Diego
One other thing to love about Week 1: Two Monday night games! The Chargers live in a "Groundhog Day" type of world. Every year they have talent, every year they fail miserably, and every year Norv Turner miraculously remains. Raiders 24 Chargers 23.
"Look guys, I don't know why I'm still here either."
Cincy + 6.5 at Baltimore
It feels like these teams play each other 12 times a year. Maybe they do, who knows? I'm not a political fact-checker, get off my back. Expect a punt-a-palooza in this one.
Ravens 14 Bengals 10
New England -6 at Tennessee
The only thing interesting about the Titans is Kenny Britt. What random arrest will he come up with next. For the October sweeps, I'm thinking human trafficking. Plus, he's got a wealth of DUI experience to teach to the team's rookies. Then there's Chris Johnson, who just mailed in a horrific performance last year that scarred many a fantasy team owner for years to come. I'm not ready to forgive yet, Chris. I'm purposely not mentioning the Boston team.
Patsies 38 Titans 27
Enjoy the games!!