Before the NFL picks, let's hand out some awards for the Jets' best and worst performances over the first half of the season. Not surprisingly for a 4-4 team, there are an equal number of each. Drum roll please...
"Ouch! My shoulder is now
separated."
The Joe Willy Namath Award for Most Valuable Player: Muhammad Wilkerson
The 3rd year lineman has been phenomenal and leads the defense with 7 sacks. Attempting to block him one-on-one is virtually impossible. He treats offensive linemen as if they are swinging doors. When the season is over, he'll be on his way to Hawaii for the Pro Bowl. Honorable mention: Nick Folk
The Bubby Brister Award for Least Valuable Player: Santonio Holmes
Holmes' actual mailing address is Jets' Disabled List. After all, it's where he lives. The Jets were counting on him to finally live up to his big contract, but the mercurial wideout apparently heals slower than an octogenerian with osteoporosis. Take your time Santonio, don't push it. Put your feet up and rest awhile and let the checks roll in. That's sound advice from Holmes' agent. Honorable mention: Entire offensive line.
The Freeman McNeil Award for Most Underrated Perfomance: Antonio Allen
For a safety that barely won the job out of the preseason, Allen has been a welcome addition to the secondary. He's made plays to stop the run at the line of scrimmage and has been asked to cover tough tight ends like Rob Gronkowski one-on-one and held his own. And, for the record, people do really forget how good and how consistent Freeman McNeil was.
Look at these numbers.
The Antonio Cromartie Award for Most Overrated Performance: Antonio Cromartie
What a shocker. Every year, Cromartie receives lots of credit for being an elite cover corner from NFL experts, announcers and coaches. But, is it really deserved? He flirts with a pass interference call every time the ball is thrown his way. Last week in Cincinnati he was burned repeatedly and not for the first time. When he trails a receiver by several steps and a quarterback luckily overthrows that receiver (looking at you, Tom Brady), he acts like he did something special. He also has zero interceptions on the year. In other words, it's been a vintage Cromartie season.
The Vidal Sassoon Award for Best Hair on the Sideline: Mark Sanchez
"They can take my job, but
the'll never take this hair."
This one is self-explanatory. That hair could start a war one day. Or end one.
The Mark Gastineau Award for Player Most Likely to Receive a Horrible, Ill-timed Penalty:
Willie Colon
Colon has received seven penalties in only eight games, which places him 4th overall in the NFL. If Colon continues to get playing time, it's a good bet he'll take the lead very soon. It's good to have goals, though. Honorable mention: Kyle Wilson.
The Curtis Martin Award for Best Running Back: N/A
We are still accepting applications for this award. No current Jet running back averages more than 4 yards per carry.
The Blair Thomas Award for Most Disappointing Running Back:
It's a four-way tie right now, let's check back later.
The James Earl Jones Award for the Guy We All Thought Was Dead But Somehow Isn't: David Harris
I really thought James Earl Jones was dead. Was I the only one? But, there he is in those Sprint commercials. Is it a hologram? If he is alive, good for him. Similarly, after looking like a Walking Dead extra last year, David Harris leads the team in tackles and tackles for loss. It's been a big bounce back year for the 7th year linebacker.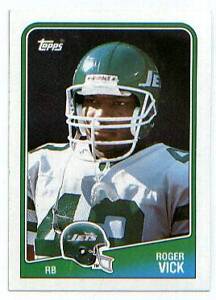 Roger Vick was a draft steal...
when compared with Vernon Gholston.
The Johnny "Lam" Jones/Roger Vick/Vernon Gholston Award for Biggest Possible Draft Bust:

Stephen Hill
The Jets have had some big time busts, so I couldn't give this category one name. It's year two and the improvement has been minimal from Hill. Here are a few players that were still on the board when the Jets drafted Hill in the second round in 2012: Alshon Jeffery, Lavonte David, Russell Wilson, Rueben Randle, T.Y. Hilton, LaMichael James, Marvin "4 TD" Jones and Andre Ellington. Would the Jets take a straight up trade of any of those players for Hill today? Quicker than you can say "abso-tively." Honorable mention: Dee Milliner.
The Ray Finkle Award for Most Disturbing Performance: Geno Smith
Just like Finkle was Einhorn and Einhorn was Finkle
, Geno Smith is a good quarterback and he is also a terrible quarterback. This is what you get with rookies. Opposing cornerbacks will be sending him some nice gift baskets for all those generous pick-sixes he throws.
Play like you mean it, but
coach like you're on meth.
The Rich Kotite Award for Making the Most People Say, "Are You Serious?": Rex Ryan
Rex Ryan could win this award for using his coach's challenges like he's addicted to the high of using them, or for his poor clock management. But, instead he narrowly beat himself out with his inexplicable decision to kick a field goal in the third quarter while down 35 to 6 to the Bengals last week. That one took the cake. They really needed to cut the deficit to 26 points? Are you serious? Was he trying to cover a 27-point spread that only he knew about? Who else wants to hear his acceptance speech on this one?
The Pat Leahy Award for Best Kicker: Nick Folk
Sure, this is a narrow category, but Folk has earned this with a perfect season so far. Three things you can count on in this world are death, taxes and Nick Folk knocking it through the uprights after the Jets have failed to execute in the red zone.
Week 9 Picks:
Falcons +8 over Falcons
Cowboys -10.5 over Vikings
Saints -6.5 over Jets
Bills +3.5 over Chiefs
Rams +3 over Titans
Redskins +1,5 over Chargers
Eagles +3 over Raiders
Seahawks -16 over Bucs
Steelers +7 over Patriots
Colts -3 over Texans
Bears +11 over Green Bay
Browns +3 over Ravens

Last week's picks: 7-6