In this week's column I'm going with a gimmick that, admittedly, has been done before. But, it's never been done with the greatest comedy movie of the last 5 years (high praise!). That movie is of course Role Models, starring Paul Rudd and Sean William Scott. The story of two screwed up guys and the two kids they must mentor. It possesses all the attributes a good comedy must have: great one liners, funny actors, decent storyline, brief nudity, a fun montage and a bit of heart.
We will dedicate certain quotes from the movie to the NFL team that it applies. Some of these will indeed be a stretch, and you may even be annoyed by how much of a stretch. Just enjoy the quotes.
Gayle Sweeny
: You know what I used to have for breakfast? Cocaine. Know what I had for lunch? Cocaine.
Wheeler
: What did you have for dinner?
Danny
: Was it cocaine?
This classic quote goes out to the Washington Redskins who lost 2 players this week to a drug suspension, including Fred Davis, their only decent receiver. Sad times in Washington. Now they get the Patriot and their goat show coming to town this week. You can pretty much guarantee the Redskins will acquire Peyton Manning in the off-season for about 30 million, and Peyton will play half a season before his neck falls off and he retires.
The Pick: New England -8 over Washington
Danny
: Pick us up in two hours.
Ronnie Shields
: F--- you, Miss Daisy.
To the Arizona Cardinals, who foolishly hoped Kevin Kolb would drive them to the NFC West title. See how I made that work? As last week's drubbing in San Fran showed, Arizona is in some trouble, with or without Kolb playing. At least the Cards didn't give up a pro bowl defensive back and millions for Kolb...oh, wait, they did.
The Pick: San Fran -3.5 over Arizona
Gayle Sweeny
: Well, well, well. If it isn't Mr. Bullshit and Dr. I'm-full-of-shit?
Wheeler
: In what way are we full of shit?
Danny
: Which one of us has the Ph.D?
My favorite quote of the movie goes out to the Eagles, who duped everyone into thinking they were good, when the signs were there all along (i.e. weak linebackers, no offensive line, no defensive line). It's been great fun to watch their demise, though I know they will somehow manage to knock my Jets out of the playoffs next week. It's gonna happen.
The Pick: Miami -3 over the Eagles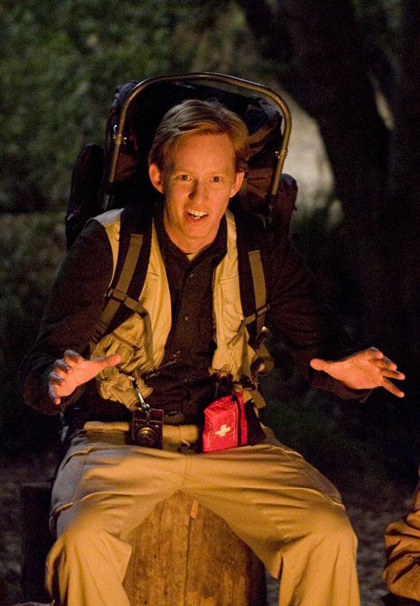 "Love take me down to the streets."
Duane
: We are gonna make s'mores with white chocolate.
Martin Gary
: Oh-ho, I don't know if I agree with that.
This borderline racist quote goes out to Jordy Nelson of the Packers who is playing so well, that articles have surfaced wondering how a white receiver could be this good, and insinuating that
he's good because he's white and is getting underestimated.
I don't know about all that, but the guy can fly and run over people. By the way, the Martin Gary character in this movie is awesome. I like to think of him as the brother of Kenneth from 30 Rock.
The Pick: Green Bay -11.5 over Raiders
Danny
: No, I like to rock n' roll all night and *part* of every day. I usually have errands... I can only rock from like 1-3.
This sounds a lot like the Jets offense, conservative and boring 97% of the time, and only interesting when they actually need it. It's a shame, because the one thing Sanchez does well is throw the deep ball. If Brian Schottenheimer played blackjack, I bet he'd be one of those guys that stays on 15 and 16 every single time no matter what. I hate those blackjack players.
The Pick: Jets -10 over K.C.
Kids, remember, don't b.s. a b.s.'er
Gayle Sweeny
: Oh, and F.Y.I., you're playing on this girl's court now, okay? So you're playing by her rules.
Wheeler
: Are you the coach?
Gayle Sweeny
: I am the coach. I'm the coach and I'm the point guard, I'm the two forwards, the center, and I'm the other guard. I'm the entire organization.
Who else could this go out to but TIM TEBOW. He is everyone and everything. He is the quarterback and the running back, the ying and the yang, the moon and the stars, the feng and the shui. You cannot avoid him! The Broncos have had some unbelievable luck working this year, and this week they get the Bears without their starting QB and running back. Next week is the Pats...hmm, I sure hope nothing happens to Tom Brady or Wes Welker (maniacal laugh...maniacal laugh).
The Pick: Denver -3 over Chicago
Wheeler
: This may be a stupid question. The Get Out of Jail Free Card: Is that real?
Beth
: That's not a stupid question.
Danny
: It's real in the game of Monopoly.
Wheeler
: But Monopoly is based on true events.
"I'll ice my own kicker...checkmate, biatch."
One of the movie's silliest exchanges goes to Dallas coach Jason Garrett who amazingly iced his own kicker last week. I think it was an homage to Norv Turner. When will coaches learn 50-yard field goals aren't sure things? Probably never.
The Pick: Giants +3.5 over Dallas
Danny
: Do you like coke?
Augie Farks
: I like the idea of it more than I actually like it.
Similarly, I like the idea of the Atlanta Falcons more than I like them. They should be better than they are, they are loaded offensively, and pretty solid on D, but every week it's a struggle, and last week they lost to T.J. freakin' Yates. This week they get Cam Newton who is starting to dominate.
The Pick: Carolina +3 over Atlanta
Barista
: A venti is a large coffee.
Danny
: Really? Says who? Fellini? Do you accept lira or is it all euros now?
Norv Turner wondering if he should punt, or...punt.
Danny's meltdown at Starbucks relates to two disappointing teams, the Chargers and Bills, who play each other this week. Remember when the Bills were the story of the year? Yeah, me neither. And how is Norv Turner still coaching? If you came in to work today, punched your boss and then went to sleep on the floor, you'd be better at your job than Norv Turner.
The Pick: San Diego -7 over Buffalo
Gayle Sweeny
: I know why you are here, so don't BS a BSer, Ok? Your "Presence" here, is court ordered.
Danny
: Why did you put presence in quotes? Are you implying that we aren't here?
To the Colts, because the guy who hasn't been "present" on the field, Peyton Manning, may be coming back. He's still rehabbing, but he wants to play when ready. Two starts out of him could ruin Indy's chances at Andrew Luck. That's the only thing that's interesting about the 0-12 Colts right now. And, I agree, this is the worst reach of all the quotes. Enjoy the games!
The Pick: Indy +16.5 over Baltimore
Last weeks picks: 4-10 (whoopsie!)
Overall record: 79-59 (still respectable!)
Underrated band of the week, BRMC: