FYI, this is what happens when you bet against Tim Tebow.
We are in the home stretch of the 2011 season and this is clearly one of the most memorable seasons since at least last year, as our entire
short-term memory
nation would surely agree.
Denver +6.5 vs. New England
Let's get the weekly Tebow rant out of the way first. I'll admit, I'm still in the anti-Tebow camp. I think he's terrible, yet unfathomably lucky. It's very lonely here in Anti-Tebow Camp, there's not many of us left. It's the winter of our discontent. Starvation and frostbite has set in.
It looks a lot like this (fast forward to 5:09).
I do understand the Tebow-mania. Last week's comeback was scintillating, heart-stopping football. I was rooting for him, while simultaneously being repulsed by his throwing motion and knuckleballs, and by the Bears choke job. When athletes succeed in spite of huge talent deficiencies it makes us all feel good - like we could do it, too. Yet, it's not like Tebow is
that bad.
He won a Heisman and was a 1st round pick. He's supposed to be decent. The fact that media makes him out to be this Tiny Tim that just dropped his crutches and starting playing is what's so annoying about him.
And the religious factor takes it to another level. Marion Barber did not run out of bounds by himself. He was pushed by the hands of destiny. And those same hands made him fumble in overtime, helped Prater kick a 59-yard field goal and made the Bears retreat into a prevent defense. Such busy hands.
"Hmm, maybe I'm really right-handed?"
Yet, the fact remains, Tebow's team has been outscored overall in his career starts. What this means is he is playing WAY above his head. He is the lucky craps shooter on a terrific run, but sooner or later he will roll cold, and the chips will dwindle. And he doesn't have the luxury of walking away with house money in his pocket. He has to continue playing. Okay, I'm out of gambling analogies. But, the interceptions will come. Bad bounces and penalties will come. I'm not sure it's possible to throw more poor passes, but if anyone can do it, it's Timmy. Defenses will step up in crunch time rather than Te-bowing before him. My guess is that the luck runs out this week against New England and then again in the first round of the playoffs vs. the Steelers or Ravens.
Do you know how many other quarterbacks managed to courageously score 13 points last weekend? NEARLY ALL OF THEM. 26 of the 32 quarterbacks in action got 13 points or more (without the help of overtime and 120 yards worth of field goals). WHERE IS THEIR PARADE? It doesn't take away the fact that Tebow has been amazing for fans to watch. But, it does bring us back to reality a little. HE WILL FALTER, YOU'LL SEE!
New England 27 Denver 17
Dallas -7 at Tampa
Who doesn't dream of one day playing in the Idaho Potato Bowl?
The NFL throws us a bone here with the rare Saturday game. They do this because college football is over, and Saturday is the first day of Bowl season, which means only the worst bowl games are defiling our airwaves. Who am I kidding, I'm very interested in the
Idaho Potato Bowl
. Notice they don't even have the right team photos up on their own web site? That's dedication. Regardless, When Ohio and Utah State meet, you can really throw out the records. Dallas 28 Tampa 17
Washington +6.5 at NYG
Rex Grossman playing in windy conditions? As my 2-year old says, "no, no, no, no, noooooooooooo." Giants 31 Skins 13
Philly -3 over the Jets
On the Red Zone Channel last week there were two close games that ended simultaneously and you could tell Andrew Siciliano was euphoric. "THIS IS WHY YOU WATCH THE RED ZONE CHANNEL! YOU SEE IT ALL HERE!" he exclaimed. He's right, but he doesn't have to be so smug about it. Not a good matchup for the Jets here. They seem to win when I pick against them, so:
Eagles 28 Jets 27
Tennessee -6.5 at Indy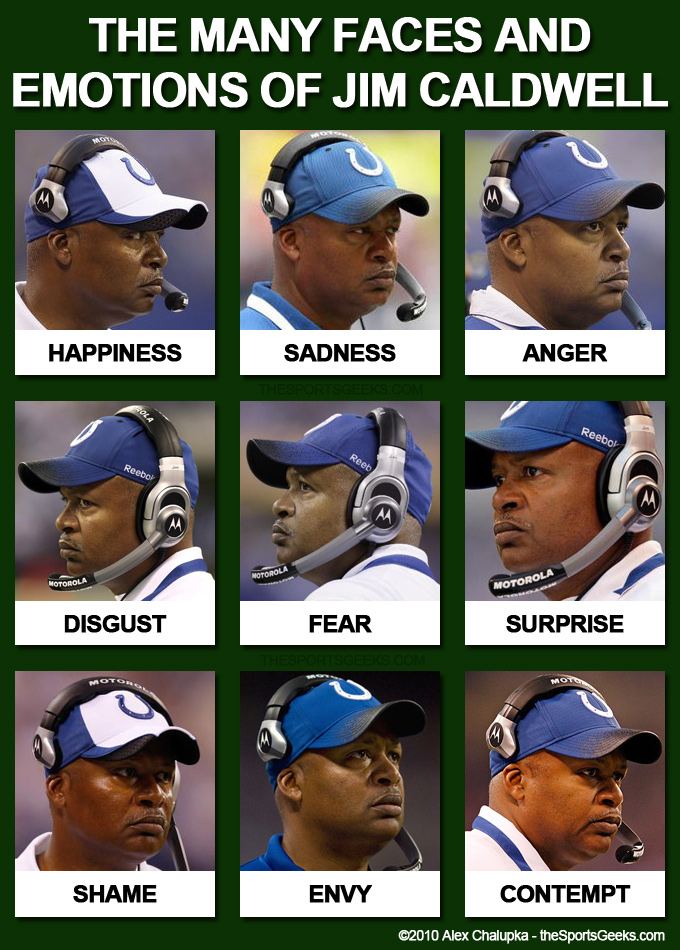 There really should be one for "confusion."
Here it is, the Colts last chance at a win. I've said that about six times already this year. They've already got the #1 pick locked up, so I say they get this thing done. And the victory will inspire Jim Caldwell to blink, and say "beep bop beep, winning score does not compute. Error. Error. Caldwell-Bot 3000 must now self-destruct..." Indy 20 Tennessee 17
Green Bay -14 at KC
The Chiefs just gave up 37 points to a Jets offense that normally takes 10 minutes to drive down the field and kick field goals. Logic dictates the Packer will score 1,270 points on Sunday. It's just math, folks. But the Pack are missing Greg Jennings, and KC wisely fired their angry bearded head coach, so let's be generous to the Chiefs here. Green Bay 45 KC 10
Cincinnati -6.5 at St. Louis
Hey, ex-Jet Kellen Clemens will be quarterbacking for St. Louis this weekend. Last week, St. Louis played a one-legged Sam Bradford instead of Clemens, so they are clearly quite confident in his abilities. Bengals 21 Rams 9 (lock of the week)
Cleveland +6 at Arizona
Yuck. Top five things I'd rather watch than this game: 5.) an episode of Whitney 4.) an episode of Broke Girls 3.) A Kate Hudson movie 2.) The View 1.) Jose Reyes hitting a triple in a Marlins uniform (sheds tear). Arizona 23 Browns 16
New Orleans -6 at Minnesota
WANTED for Killing an HBO Series: Steve Zahn
I think there should be more movies that take place in New Orleans. I've never been disappointed in a movie that takes place in that city. "The Big Easy", "Skeleton Key", "Tightrope", "In the Electric Mist", "Storyville" and "Miller's Crossing" are all really good. Even "Heaven's Prisoners" had its moments. I guess my point is...what the hell happened with "Treme"? My theory is Steve Zahn was just too damn annoying.
New Orleans 34 Minny 24
Seattle +3.5 at Chicago
Can the Bears recover from last week's Tea-bagging? Whoops, I mean Tebowing. Not if Caleb Heinous remains their QB. I know Donovan McNabb is washed up, but he'd be a huge upgrade over Heinous (as he should and must be called). The Seahawks will just not go away, no matter how much we want them to. You could have made a lot of money if you had bet at the beginning of the year that Marshawn Lynch would be showered with Skittles after touchdowns. Astronomical odds on that. Seattle 13 Bears 12 (upset special)
Baltimore -2 at San Diego
San Diego is making their late season run that causes people to forget that Norv Turner is the reason they were 4-7. Baltimore looks better without Ray Lewis, and every announcer is scared to mention that. It's like they think Ray Ray
will pull up to their house in a limo
. Yeah, can't blame them.
Chargers 23 Ravens 20
Detroit -1 at Oakland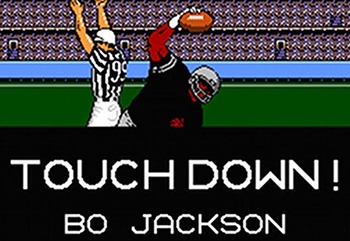 Expect a big game from Bo this weekend.
To help predict this game I dusted off the old Nintendo and simulated a Detroit-Oakland game on SuperTecmo Bowl. Hey, I've got time. So, here's what's gonna happen this weekend: Bo Jackson will run for 193 yards, Barry Sanders will run for 220 yards and Jay Schroeder will throw 3 interceptions. Rodney Peete will run several weird bootlegs to the right. And Jason Hanson will kick a field goal, like he's done for the last 23 years.
Detroit 31 Oakland 21
Carolina +6.5 at Houston
TJ Yates continues to impress, despite no one knowing who the hell he is while Cam Newton alternates between Superman and
Blankman
on a weekly basis. Blankman has had some control issues, but take the points here. Houston 24 Carolina 20
Jacksonville +13.5 at Atlanta
This guy owns the Jaguars. No, seriously.
Holy cripes, Jacksonville is on prime time again? For the love of Tebow, what did we do to deserve this? It's like the NFL is showcasing the Jags so another city will step in and take them away:
"
Hey there Los Angeles, here's Maurice Jones-Drew...you know you like him, you know you want him...he can be yours...tonight! And he'll give you a lap dance!" Unfortunately, Blaine Gabbert is not sold separately, he's part of the package. Atlanta 30 Jax 20
Overall Record: 84-64
Last week: 5-5