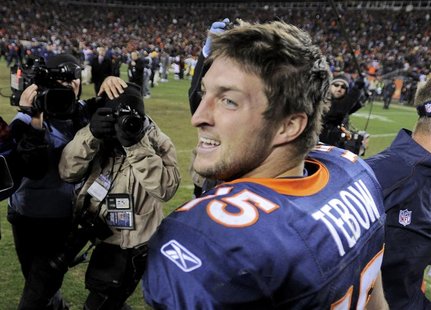 "I'm going to Disney World!...Wait, this isn't the Super Bowl?"
The greatest NFL week of the year is here, the Divisional Playoffs. The untalented Wild Card riff-raff has been mercifully sent home (see ya, Bengals and Falcons), and we can now get down to biznatch. This is the best round of the playoffs because there's still four great games to take in over two days, and you don't have to deal with the excessive hype of the conference championships and Super Bowl. Regretfully, I didn't get my picks in last weekend as I was busy losing money and inhaling sidestream smoke in Las Vegas. I'd like to thank those chain-smoking blackjack players for taking 5 years off my life. No really, it's appreciated. To make up for missing out last week, I'm guaranteeing I don't lose more than 4 games the rest of the year! Take that to the bank!
They left her no choice...
paper or plastic... or death?
Also...just thought I'd add, did you all know "Haywire" is coming to theatres soon and kicking off the New Year with a "sexy, action high"? I don't know what that is, but the commercial is on constantly and I'm pretty sure I know the entire movie by now. Apparently, a cage fighter escapes from her cage and beats up on Bill Paxton and Michael Douglass. I'm told it's a "bare-knuckle, bone-crunching, non-stop blast!" by the writers of Hyphen Magazine. On to the picks!
New Orleans -3.5 at San Francisco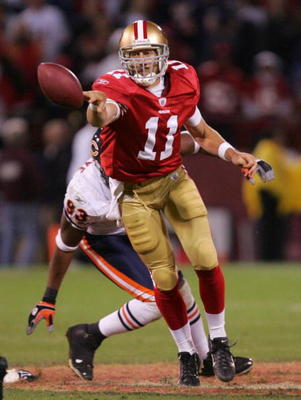 Smith's unorthodoxed and rather dainty
throwing style could be exposed this week.
 This line seems so easy my mouth is watering just looking at it. It's Drew Brees vs. Alex Smith. A certifiable lock!! Forget everything else and remember that. Forget the 49er defense, forget that the Saints are worse on the road and lost at Seattle last year (when the Saints running backs were all hurt btw) and remember....Drew Brees vs. Alex Smith. Brees is in a ridiculous zone right now. He can score 30 blindfolded. He could win with you, me and Dupree at wide receiver. The 49ers are the classic "great season, one and done team". There's
one of them every year.
Saints 31 49ers 20 (forget lock of the week...lock of the year!)
Houston +7.5 at Baltimore

Marvin Lewis contemplates challenging his own
incompetence.
Quite a performance by Bengals coach Marvin Lewis against the Texans. He made not one, but two pointless challenges within a matter of minutes. One challenge disputed one measley yard and it was still only 2nd down! Good gracious, that's idiotic. Not surprisingly, he lost both. I think it's time we take the challenge flag away from coaches, they cannot be trusted with them. It's like when I gave my 2 year old son nunchucks that one time...he just wasn't ready for it, so I quickly took them away like a good father should. The Texans can run the ball and stop the run, but so can the Ravens. Consequently, look for this to be the most boring and least watched of the four games. But if you like punts and no yard gains, this game is for you. One of the four home teams will lose this week, and the good bet is it will be either the Ravens or the 49ers (or both!). Irregardless, (which isn't a word, but regardless, I like to sound like the "experts") take the points. Ravens 17 Texans 13
Green Bay -7.5 vs. Giants
The Giants may be the one team that can stop the Packers from repeating. They can rush the passer, and score enough to keep up. The Packers are banged up, even with the off week. And sources tell me there's not one jar of Vicodin left in all Wisconsin, thanks to Favre's little "hobby". Random pet peeve of the week time: Everyone keeps doing
Cam Newton's Super Man move
when scoring a touchdown and it needs to stop. Literally every college football player did it during bowl season, and now pros are copying it too. Dwayne Wade even
did it recently
. Where has originality gone? I'd celebrate a touchdown by doing something simple, yet tasteful, like riding an imaginary pony back to the sideline. That's creativity. I think the Giants will cover, but the Saints-Packers conference championship is pre-ordained, let's face it. Green Bay 34 Giants 28
Broncos +13.5 at New England Goat Herders
"Maybe if I squint real hard, he'll seem like a good QB...nope."
And here it is, the game that had to be. The Chosen One vs. the Hair. Something has to give. Maybe Tebow can clip Brady's hair? He has some clipping experience. Tebow actually looked quite good last week. The Steelers dared him to beat them and he obliged. Thinking about either one of these teams/QBs winning this game makes me want to tase myself. I have to do what's necessary here... LET"S GO TIMMY! It's understandable people don't think Tebow doesn't have a chance here a few weeks after getting trounced by the Pats. But remember, last year a certain
awful QB
also got trounced by the Pats late in the year then went on to beat them in the playoffs. And yes, this is just an excuse to
remember that game once again.
Patriots 37 Broncos 20
Enjoy the games!
Week 17 record: 8-4-1
Overall record: 107-78-9